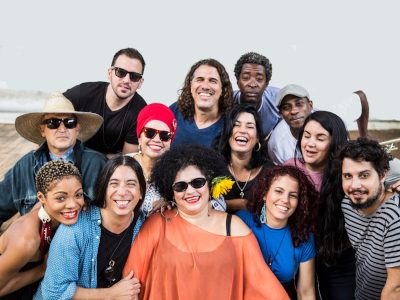 INTERACTIVO ES UN ESPACIO ABIERTO A LAS IDEAS VANGUARDISTAS, A LA CREATIVIDAD Y PENSAMIENTO MUSICAL
ENGLISH
Interactivo is the great fusion school of Cuban music of the last 20 years. The band has housed and served as a springboard to an impressive group of Cuban performers, vocalists and instrumentalists with remarkable musical abilities.
As in most things that Roberto Carcasses undertakes, Interactivo was born as a game. His previous experiences with a similar playful and collaborative spirit created the foundations of the musical project to which he has dedicated much of his maturity as a composer, arranger and director.
Without predefined musical genres, strict templates or emasculating loyalties, the musicians of Interactivo, come in and out, collaborate, disappear for a while in their own projects and return.
That is what Interactivo is, above all things, a family made up of all -star Cuban musicians.
ESPAÑOL
CATALÀ