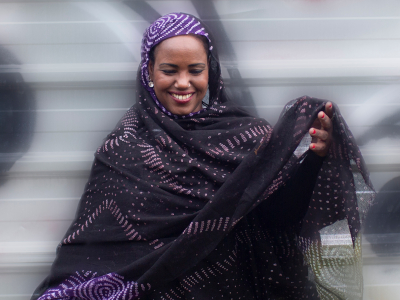 Born in in the desolate Saharawi refugee camps in Algeria, Brahim uses her songs to bring attention to one of Africa's forgotten tragedies. Cool, stately and soulful.
The music of Aziza Brahim makes reflects both the sorrow and the hope of these people. She grew up in one of those camps in the Algerian desert, along with thousands of other Saharawi who were removed from their homes in the Western Sahara. The refugee camp was the place that formed her. It lives in her every heartbeat.
It's a   universal  plea,  one  to  catch  every  heart. The song's power  is  in  its  gentleness,  the  sense  of distant hope. Maybe the world will learn how to open its heart to the Saharawi -and to all refugees. . Perhaps Aziza's empowered, healing music,can help refuel our sense of justice and compassion.