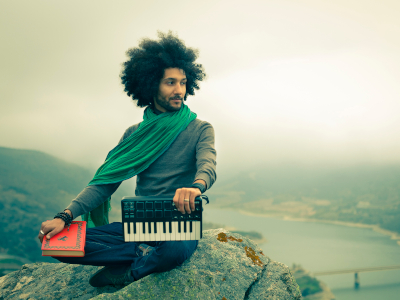 «WE ARE WHO WE ARE, WITHOUT ASKING OURSELF
WHO WE ARE, BECAUSE WE ARE ALWAYS HERE»
ENGLISH
A humanist singer and composer in multiple forms, in love with poetry to which he dedicates his artistic career, Walid Ben Selim was born in Casablanca. Their compositions are known for their thought-provoking lyrics, through their music, Walid seeks to bridge cultural boundaries and create a platform for dialogue and reflection.
He became a pioneer in Moroccan rap and it was with Widad Mjama with he created the group N3rdistan. After arriving in Perpignan to study, Walid met professionals and structured his artistic work in France. After more than 200 concerts with N3rdistan around the world, Walid returned to his studio to work on new sounds, composing music for a number of short films, documentaries and feature films.
In 2019 becomes an associate artist at the Silo and Uni'sons, where he créate "Le Lanceur de dés" around the words of Mahmoud Darwish.
Retrenched in a Cathar castle in the Pyrenees Orientales, he installs his sound laboratory, and records his titles by inviting in residence his artistic circle, with poetry as a diapason, to create Poetic Spaces where poets, actors and musicians are mixed.
ESPAÑOL
FRANÇAIS
CATALÀ
ESPAÑOL
El jugador de dados cuenta en música y cantos el poema epónimo del palestino Mahmoud Darwich.
Las poesías resuenan en árabe a través de la interpretación del artista franco-marroquí Walid Ben Selim, miembro, también, del grupo N3rdistan. El qanoun de Nidhal Jaoua y el piano de Agathe Di Piro dialogan y subrayan los juegos del destino y el azar descritos en el poema. El trío está guiado por las palabras de Darwich, los instrumentos vibran encantados por la conjuración poética y la musicalidad del lenguaje.
ENGLISH
CATALÀ
FRANÇAIS
ESPAÑOL
Walid Ben Selim es la voz de los grandes nombres de la poesía sufí. A través de este Oriente mítico, místico y milenario, este cantante marroquí busca traspasar la vibración primigenia en un soplo épico y meditativo. Acompañado por la virtuosa arpista clásica Marie-Marguerite Cano, crea un espacio de espiritualidad musical, una forma de intercambio entre la lengua árabe hablada y el lenguaje inaccesible y simbólico del arpa. Un reducto poético sembrado de amor y alegría triunfante.
ENGLISH
CATALÀ
FRANÇAIS