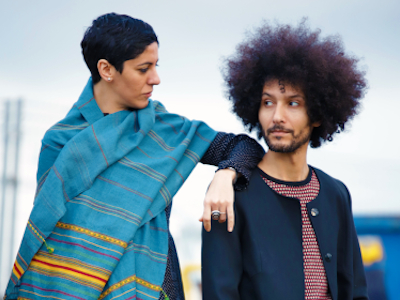 UNUSUAL MIX OF COMMITTED POEMS AND URBAN MUSIC
ENGLISH
Welcome to the astonishing land of N3rdistan. It is the story of exiled people who have come from elsewhere with their mystical songs, unsettling text and compelling rimes.
Guided by these mystical electronic tunes, N3rdistan elaborates a resolutely bold fusion, which is unusual, and serenely "avant gardist".
N3rdistan is a Franco-Moroccan band that [re]thinks and mixes various dimensions, times, cultures, styles and instruments. From hip-hop, rap, electro-rock to the more traditional Arabic melodies, with the voice of the disconcerting and mesmerizing Walead Ben Selim and Widad Mjama. Old poets such as Mahmoud Darwich, Gibran Khalil Gibran, Ahmad Matar or Nizar Qabbani are sung, but also poems of their own authorship. Of disruptive intensity and power, sober and powerful at the same time, with their own sound, has achieved to find harmony between texts and melodies by dynamiting the codes of the genre: poetry has never been so well served.
ESPAÑOL
CATALÀ